The Contemporary Research PS12-1.0 is a 12VDC 1.0A Power Supply. The energy-saving compact power supply fits plug space on a standard power strip. 110/220V, 50/60 HZ, 2-pin power plug.
Use with the Contemporary Research 232-STS, 232-STSi, QMOD-HD, QMOD-HDSC, QMOD-SDI, and QDA4-45.
Specifications
110/220V
50/60 HZ
2-pin power plug
Accessories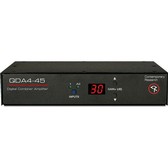 Contemporary Research QDA4-45
RF Distribution Amp and Combiner, 4 Inputs, 50dB
Reviews
There are currently no reviews for this product.
Review Product
Questions
This product has no questions -
ask one!
Ask a Question