Installing the Contemporary Research 232-ATSC 4
The Contemporary Research 232-ATSC 4 is one of the best standalone HDTV tuners on the market today. Now that you've decided to purchase one for your project, installation is the next step.
There will be three parts to this article, understanding what channels you can tune, basic setup, and controlling the unit.
Understanding what channels you can tune
The CR 232-ATSC 4 tunes both digital and analog off-air TV channels as well as MPEG-4 and MPEG-2. You can also use this in conjunction with your cable provider if they have switched to an all-digital system. Once this occurs basic cable programs become available as unscrambled channels which are also tunable by the 232-ATSC 4.
So what specific channels can be tuned? It all depends upon your local broadcaster and your proximity from their antenna. To view your local channels and estimated signal strength visit the FCC's engineering map. If you're using this with a cable box they are typically the high numbers, however, to ensure success check with your cable providers engineering department. They should be able to provide a list of unscrambled channels that they broadcast.
Setup
Setting up the 232-ATSC 4 is relatively painless. It has the basic in/outs of a DVR or hi-end DVD player that most will be familiar with.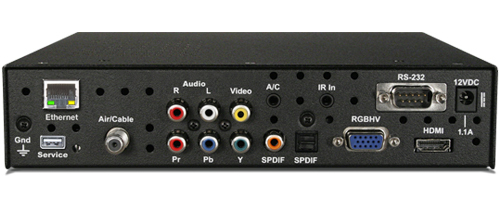 From Left to Right: Inputs- Ground, USB (firmware updates), Ethernet, Air and Cable, RF Outputs- Composite, Component, & SPDIF A/V Outputs, IR In, SPDIF, RGB (component), RS232, and HDMI.
Determine your RF input type, over the air antenna or cable
Connect the RF cable to the appropriate input and tighten connector

Determine which video output is compatible with your display device or distribution system

Connection the A/V output to your display device or DA system

Connect RS232 or IR Control to a control system (AMX or Crestron)

Configure channels using supplied manual or Quick Setup Guide
Controlling the unit
You can control this unit six ways; via the front panel, supplied remote, IR (hardwired), Ethernet, USB, or RS232. IR codes are offered for AMX, Crestron, and Prono formats. RS232 protocols for AMX, Crestron, and RTI are available for download at Contemporary Research's official site.
RS232 Wiring
Wiring multiple units can be confusing. Below we have compiled three representative drawings to help. Please note that all show pin #'s relative to a PC Com port or traditional RS232 control system. Pins #4 & #9 are momentary closures to Ground (GND). A total of nine tuners can be connected (daisy-chained) from one RS232 port.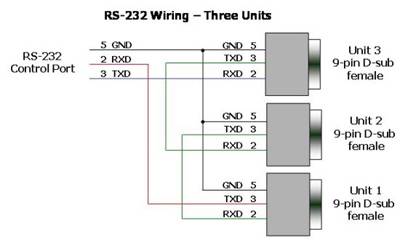 Other helpful links:
232-ATSC 4 Data Sheet
Latest 232-ATSC 4 software
View more AV articles