Contemporary Research
ICC2-ATSC 4
HDTV Tuner/Controller, RS-232, MPEG4
The Contemporary Research ICC2-ATSC 4 HDTV Tuner is an integrated HDTV tuner/controller which networks HD display monitors and projectors within an iC-Net and SignStream display control system. As a universal TV tuner, the ICC2-ATSC 4 may receive ATSC, NTSC, as well as clear QAM cable channels via an MATV antenna or even CATV cable RF system. The tuner can also tune MPEG4 and MPEG2 and can even output 1080P.
The tuner exhibits broadcasts by means of simultaneous HDMI, RGB/Component, and NTSC composite video or connections. Full-time audio can be obtained through digital 5.1/PCM HDMI, optical, and coax ports, as well as variable-level analog stereo audio outputs.
Specifications
Through-the-RF Integration - Controls displays through iC-Net technology, communicating via existing MATV/CATV coax wiring for 2-way control and status
System Solutions - Communicates with Display Express software, and custom control systems
Display Control - Employs RS-232 control port for integrated display control, includes onboard database of display control commands
Tunes ATSC off-air, clear QAM cable, MPEG4, MPEG2, and analog channels
Always-active HDMI and composite video, as well as stereo, and digital coax and TOSlink optical audio ports
VGA or Component outputs switchable from front-panel settings or RS-232 control
Includes 12 VDC power supply
Accessories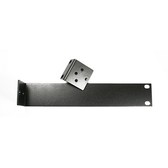 Contemporary Research RK1
Single Rack Kit for Tuners, QMODs & Combiners
Reviews
There are currently no reviews for this product.
Review Product
Questions
This product has no questions -
ask one!
Ask a Question