Contemporary Research
ATSC-SDI 4
HDTV Tuner with 1080P SDI Output and MPEG2/4 Decoding
Professional HDTV Demodulator with onboard HD-SDI port, and MPEG2 and MPEG4 Decoding
The ATSC-SDI 4 tunes ATSC off-air, clear QAM cable, analog channels, and MPEG-4 and MPEG-2. Other features include the ability to deliver 1080P video, and easier firmware updating to ensure that your tuner is always up to date with the latest software. It also includes an HD-SDI output, The HD-SDI port outputs the tuned program with captioning and V-Chip data scaled to a set resolution up to 1080p.
Control options include Ethernet, RS-232, USB and IR, and remotely from an on-board Web page. Setup is simple with its text menus on the front-panel LCD display. The tuner displays broadcasts through simultaneous HDMI and NTSC composite video, and can even switch between Component or RGBHV outputs. Full-time audio is available from Dolby 5.1/PCM digital HDMI, optical, and coax ports, as well as variable-level analog stereo audio outputs.
SDI output to 1080P with captioning and V-chip data
The integral HD-SDI output allows inclusion of 708/608 captioning, choice of AES stereo or AC-3 audio, and scaled output set to a constant 1080p, 1080i, 720p, or 480i resolution. A professional HDTV tuner, the ATSC-SDI 4 features onboard Web pages for control, setup and monitoring. The compact enclosure allows mounting of two tuners in a single rack space.
Contemporary Ace is Your Source for the Full Contemporary Research Line
Contemporary Ace has a knowledgeable staff that is ready to help with any Contemporary Research questions.
Specifications
Includes: HD2-RC IR Remote, switching power supply
Warranty: 3 years
An HD-SDI port outputs the tuned program, with captioning and V-Chip data, scaled to a set resolution up to 1080p
2 units can fit side by side in a 1RU rack space
Tunes ATSC off-air, clear QAM cable, analog channels, and now MPEG-4 and MPEG-2
Always-active HDMI and composite video, as well as stereo, and digital coax and TOSlink optical audio ports
VGA or Component outputs switchable from front-panel settings or RS-232 control
Automatically screen out encrypted channels while scanning
Front-panel text and onscreen menus for tuner setup
Web page for remote setup and control
Supports dual Air/Cable tuning with optional RF switch
Analog and digital closed captioning
Internal scaler displays all channels at selected resolution
Rack-mountable two across in 1RU
Full ASCII 2-way RS-232 commands, AMX, Crestron, and RTI modules available, discrete IR commands
RS-232 can be daisy-chained to control up to 9 tuners from a single RS-232 port, or control any number of tuners via IP
Field updatable for control and HD processing firmware via USB
Meets RoHS and California energy-saving standards, fan cooled operation
Accessories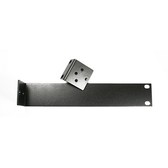 Contemporary Research RK1
Single Rack Kit for Tuners, QMODs & Combiners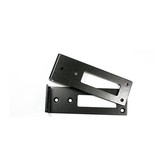 Contemporary Research RK2EZ
Dual Rack Kit for Tuners, QMODs, and Combiners
Reviews
There are currently no reviews for this product.
Review Product
Questions
This product has no questions -
ask one!
Ask a Question